The Wood !
As I explained on my About me page, my "first" skateboard since I really got into skateboarding was made from a sheet of thick plywood (with sandpaper glued with double-sided self-adhesive as griptape). But that's not the one I'm going to talk about in this post. I'm going to talk about my first (and only, for the moment.) homemade skateboard deck made from maple veneer, which features concave and tails.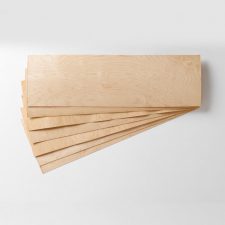 In order to build a skateboard deck, one need the adequate material : wood veneer. At first I tried to find local sourced veneer but I couldn't find one that was at the same time thick enough, long enough and made from a good hardwood. I live in a part of the country where for some reason you can't even find birch plywood, so finding some (good) veneer was an impossible mission.
I even contacted the man behind Akasha boards, who lives not far from me, to know where he got his beech veneer. Unfortunately his supplier required a minimum order of thousands of Euros.
So I ended buying my plies from roarockit.eu which allowed me to get correct sized veneer with cross grain sheets included, ready to be glued on. They were  the cheapest veneer I could find online, and still made from Canadian hard maple wood.