The first encounter with the Carver CX set
The first time I tried Carver Trucks was one day at the skatepark when a guy came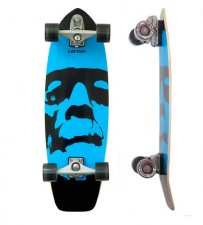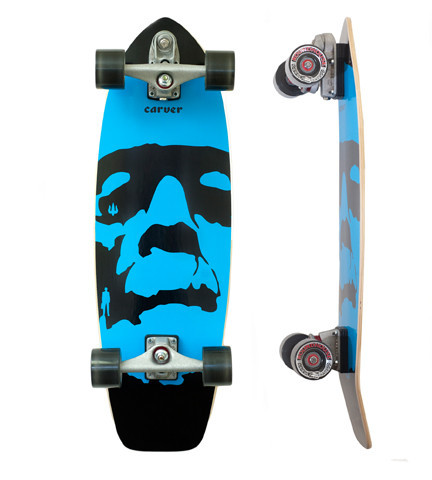 with a 'Da Monsta' board equipped with C7
trucks. I tried his board and had a lot of fun with it, I could make really sharp turns and it felt so smooth and surfy ! But when the guy told me he bough his complete board for about 320€ I though I would never be able to ride one.
Back home I made some research and browsed forums such as silverfishlongboarding.com trying to find a cheaper alternative way to surf the concrete like an everlasting wave. I heard about the Vector Bennett truck (which I will review it soon) and about the Carver CX which is a little cheaper than the C7 but also was considered as more adapted for 'pool' ridding.
Finally I found a shop which sold the CX set for around 100€ and decided I would buy it as it looked like it was really some great trucks.
After a few days I finally received the package and quickly mounted them under my home made deck and with a set of 60mm 85a wheels. I didn't even change the trucks tightness, it was set very loose.
I then went out and tried it on the road and I was very surprised, the front truck turned so much I could make a U-turn in a hallway. It was like I could lean so much that 'deck bite' could be an issue, but it was just an impression.
Then few day after I took my board and my Carver CX truck to the skatepark. The skatepark is made of a long snakerun ending with a huge bowl and a high manual pad, an inclined pad, a rail and a bench.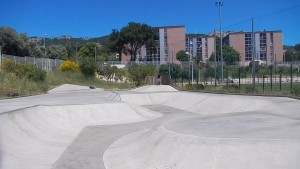 I had spend the last week carving the snakerun and had found pretty efficient lines, but with these trucks my lines didn't mean anything anymore as my turning radius was much smaller. I had a great time with the set of trucks and really enjoyed surfing my way into the snake run with an incomparable feeling of freedom.
Then I soon learned how to pump, it is so easy with those trucks and you basically learn it without knowing it. You just have to turn the front truck from one side to another and you will quickly gain speed without much effort. I quickly became used to make some quick pump on the flat parts of the run so I could go faster and climb the higher transition.
Many people looked at me as if I was coming from another planet as it seems nobody here never heard about pumping and people were surprised about how my front truck was able to turn.
The only problem that I had with this set of truck was its height, event with no riser and with 60mm wheels it was so high that I had like 2cm of clearance between the wheels and the deck with the truck at its maximum leaning… More on that later.
The LDP stage
As I made some research about pumping I found about LDP on PavedWave and quickly became interested in it. I wondered how it would be to go on bicycle path and try to go as far as I could without pushing. So I took my board and ride for about 7 or 8 kilometers, I was not really fast but I had fun. I quickly realized that I needed softer and bigger wheels as the rough asphalt slowed me down and my feet became numb because of the vibrations.
There was a sale on Amazon on OJ Thunder Wheels which have a really soft durometer of 78a and a pretty big diameter of 75,5mm. I put those on my board and immediately felt the effect of having softer, bigger and heavier wheels : I could go faster and farther !
Then on day, I met a fellow LDP rider on the bicycle path and he shared with me the url of a French forum about LDP DandyStance (Which is currently down…) and I gained a lot of knowledge about LDP by browsing this forum. He also graciously lent me a longer deck (a modified freebord deck) so I could try a longer wheelbase to see if it would help me.
I used it a lot and modified it by adding an aluminum beam to make its wheelbase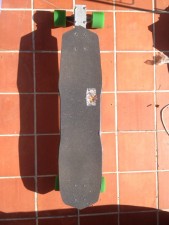 even longer and even though it looks ghetto, I could go really fast with it comparing to my street sized deck.
I took part of a sort of LDP race in the following autumn (2015)  in which I arrived 27th out of 35 with 20km in 1h13,23″ which is not that bad considering that there were a lot of really impressive athletes with more specialized equipment. And I only pumped, not pushed ! It made me aware that my body is not as much in shape that I though it was and I became more concerned about training my body in the following months.
This is the race I took part of, you can briefly see me at the arrival wearing a red shirt and shorts.
I will talk more about LDP in another article as I have now changed my equipment, and this review is about the Carver CX trucks, isn't it ? 🙂
Technical details
Note : My set of trucks is the version 4 which was commercialized in 2013, older version are a bit different.
First here are some picture of the CX front truck.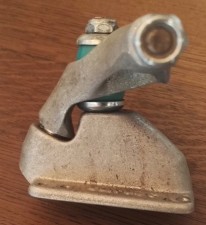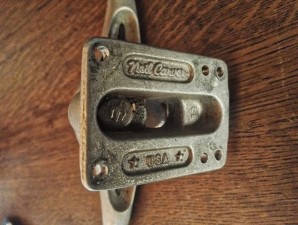 As you can see, it doesn't look like your usual TKP truck (Traditional KingPin) , and it doesn't even exactly look like a standard RKP (Reverse KingPin – Usually longboard trucks).
Here are the measured angles :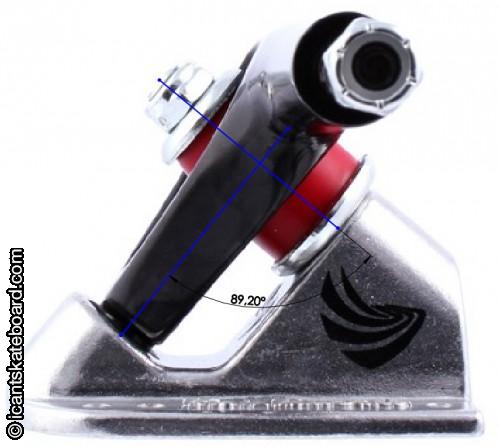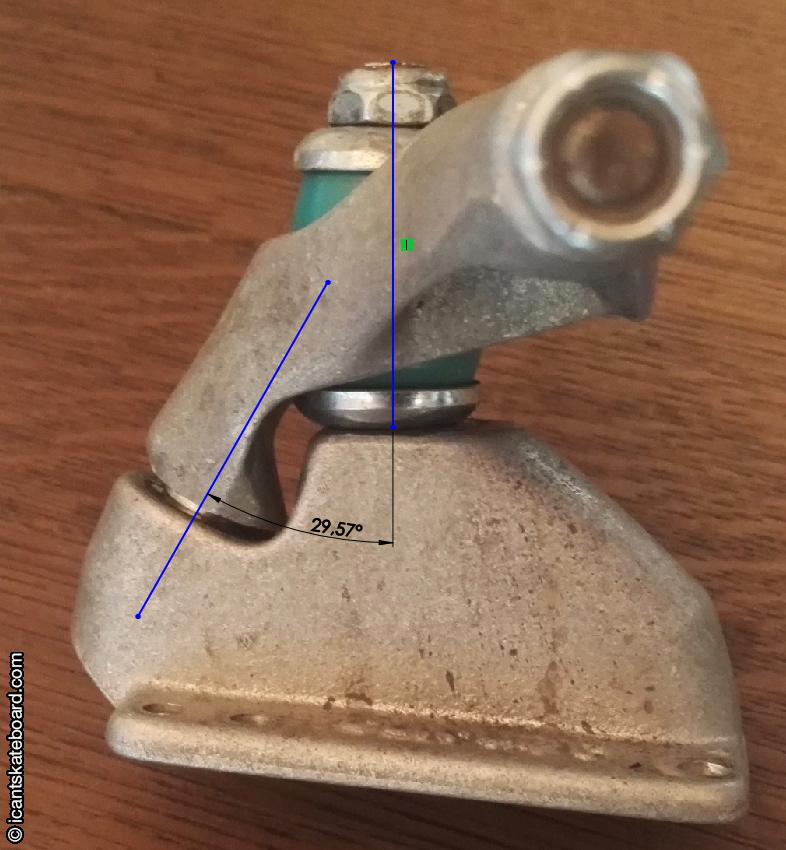 I can't find any other trucks on the market with such an angle, every RPK manufacturer seems to respect the 90° angle.
This original angle is interesting because it doesn't really compress the bushings the same way a classic RPK truck would. It used to cause problem on the precedent versions and damaged bushing. But it seems to be fixed as I haven't experienced any bushing damages and I have put more than 100kms on them.
All the measurements are available on the Carver CX page :
– 2 7/8" tall
– 6.5" hanger with a 9" axle
– .55' top conical bushing, .65" bottom conical bushing. Stock 89a durometer for easy pumping, optional 95a durometer set available
– 2 ½" kingpin
– .7" OD x ½" ID pivot cup
– Drilled to new and old school mounting patterns
– Sand cast 356 aluminum alloy, heat-treated to Rockwell T6
– Made in the USA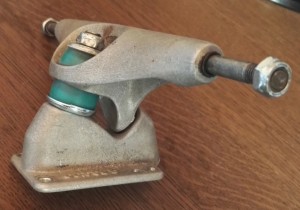 The C2 truck used on the rear position is not as original,  it is basically a well made and higher version of the Tracker RTS which is a widely used truck for slalom and LDP. The RTS is a TKP truck. It is very stable and can be easily tuned by the use of angle risers. The Carver C2 shares the same qualities but works well out of the box.
I would advice people to buy the CX in set with the C2 truck as they really work well together and I'm not sure another rear truck would be an enhancement.
Here are its measurement as found on its page on Carver website :
-2 7/8" tall
-6.5" hanger with a 9" axle
-.55' top conical bushing, .65" bottom barrel bushing. Stock 89a durometer for easy pumping.
-2 ½" kingpin
-.7" OD x ½" ID pivot cup
-Drilled to new and old school mounting patterns
-Sand cast 356 aluminum alloy, heat-treated to Rockwell T6
-Made in the USA
Conclusion :
The Carver CX set is a very fun set of trucks that most people will enjoy, the sensations are uniques and addictives, however it is quite high and can't be ridden fakie without extreme instability which limits its capabilities.
You will enjoy the CX set if you:
Want an unique surfing feeling
Want to carve and pump the street
Like to carve pools and snake runs
Want to learn LDP quickly
You should try another truck if you:
Only want to do street skating
You like to grind (except if you modify the Kingpin)
Want maximum versatility
In my opinion, this is its pro and cons.
Pro:
Fun
Good quality, looks strong and durable
Polished pivot
Optimized architecture
Stable at medium speed (never tested faster than 45km/h ~28mph)
Good for LDP, especially if there are hills to climb
Cons:
Too high, really too high when you want to use smaller wheels
The front kingpin stick out
Addictive
If you have those trucks please let me know what you think about it in the comments bellow and if you have any question, feel free to ask !