Big, soft and fast !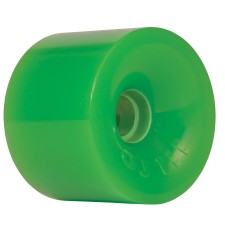 When I began LDP (Long Distance Pumping) I only had wheels that were too hard or too small to go fast and smoothly. As I was searching for new wheels I stumbled upon a sale on Amazon, a set of OJ Wheels Thunder Juice 75mm 78A for about 18€, the full price was 65€. As I had read on PavedWave that I would need big and soft wheels, I though it was the right choice. So I bought it.
The Thunder Juice are really huge compared to classic street wheels, both in diameter and in width, but also a way lot heavier. They are the fastest wheels I never tried. Pushing will be just a little harder as they have a huge momentum but you will go fast and far. When you swap small wheels for these beasts it's like your board never really wants to stop.
Perfect for LDP
These OJ wheels are ridiculously grippy, the only time I slipped with them was on a wet road when I tried to pump on a painted mark with leaves on it. Even tires would have slipped. I heard about some downhill riders sliding on them, but I don't slide so I can't judge them on this aspect but I guess you will need a strong impulse to make them slide.
I use my Thunder Juice mostly for LDP. I need grip, especially in the rear, to get the most torque and control and big wheels to get a lot of momentum and a soft durometer because roads are not really smooth. I only wish they could be even bigger, something like 85mm, for even more momentum.
As for durability, I have currently made more than 300km on them and they are still perfectly smooth, without any damage and their size haven't changed much. As I never slide with them I think I could keep them for years before I need new ones.
Forget about pebbles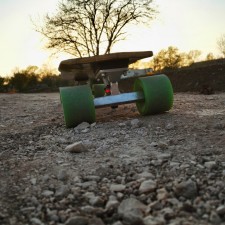 With the Thunder Juice you can roll on small rocks without even feeling them. I took them to a place in the old swamps where the city is constructing a kind of "Nature Park" to test how they would behave on offroad situations. I know this is quite extreme but I wanted to show you how nice these wheels are.
It worked surprisingly well, as soon as there were not really bigs rocks of course, and on the smoothest part of the road I could actually roll for quite a long time before loosing momentum.
I couldn't actually pump on the dirt, there was not enough traction in the rear wheels and I would risk to slip but I could push for a few kilometers. I wouldn't go on dirt road on purpose but if I have to cross that kind of terrain for a few kilometers during a trip, I wouldn't mind much.
I used my smartphone to record some videos and posted it on Youtube so you could see what I mean.
Here is the video :
I hope you enjoyed it !