A good price for a nice shaped deck
I have been looking for a new deck for my LDP (Long Distance Pumping) setup for a while. And while I was browsing the longboard deck section of amazon I saw this Flying Wheels deck on discount.

At first I was surprised,  about 35€ (~40$) for a 96,5cm (42″) deck is really a cheap price. But as I didn't want to spend a lot and I loved the kicktail look and the long wheelbase I bought it. Afterward I realized that Flying Wheels is a french brand from the East Coast of France and was pretty happy to be able to buy local.
This deck is not listed on the Flying Wheels website but I think it comes from a former line of products. And that's  maybe why it was on discount.
According to the Amazon page the wheelbase is supposed to be 823mm but I measured  77,5mm between the inside mounting holes so I think they just only didn't measure it like they are supposed to.
The shape is not really a LDP standard shape, these days most people use G-Bomb decks with forks or tail-less boards. But in fact, it is still close to one of the most famous LDP deck : the Walkabout, except it has a kicktail.
The kicktail: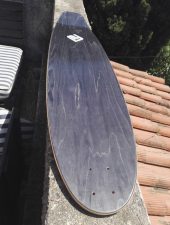 Let's talk about the kicktail, on a "normal" street skateboard, the tail is very important as you need it for practically
anything except rolling flat. But in LDP you are basically only rolling flat so why should we use a kicktail ? In fact the vast majority of LDP decks doesn't have any tail or nose, and that's fine we don't need it. But as far as I'm concerned, I like to have a tail. I think it makes the deck looks better and give me the ability to pickup my deck easily. But let's be honest, with the very turny-twitchy front truck, there is no way I can't be back enough on my deck to have a foot on the tail without falling.
For the same reason, a lot of LDP decks don't have a nose, but some have as it give a nice place for the front foot to rest. But I don't like to have a nose as it gives to my front foot the ability to accidentally lift the back of my board and lose traction and drift and then fall.
What about quality ?
The first thing that I noticed after I received my deck is how huge a 42″ deck is, it is really impressive. The quality is very good, no sign of wood paste plugged hole on the rails as I have seen on some major brand decks, and a strong clear finish. It is heavy, but with it's seven layers of Canadian maple veneer it is perfectly normal. It is not some high-tech carbon deck, just plain ol' school wood. And to be honest, I tend to like the inertia of a heavy board.
The finish is very simple, stained layers of wood, clear coat and a nice white logo on both sides of the board. Very simple design in fact. But nice detail : there are big nice wheel wells and so I could remove the flat riser that I was using between the angle risers and the deck on my previous board without any wheelbite. And it looks wicked. Flying Wheels did really a good job on this one.
But does it pump ?
So I put my current favorite LDP configuration on it :
Front: Surf Rodz TKP Grind 159mm

12° angled riser
Medium/Soft cone bushings

Back: Tracker RTS 139mm

-18° angled risers
Stock bushings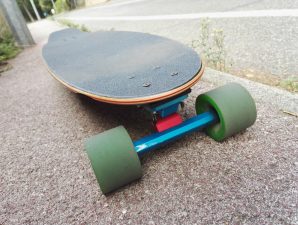 And I went to my local bicycle path for a ride. It immediately felt awesome, I could go faster than ever and my feet could find the right position immediately, I really felt "at home" on this deck.
The subtle concave makes my feet feel locked in but still gives me the ability to quickly change my stance to adapt to the conditions. if I'm going uphill I can easily move forward and get more power but on the flat or slightly downhill parts I can stand back a little and get even more speed. It's like being able to change gears and it feel awesome.
The deck only have very little flex although I'm weighting 80kg so if you like flex boards this deck is definitely  not for you. But I really like stiff decks as I don't want to waste any energy in flexing the board, so I'm happy with that.
I have been able to go faster than I ever did with this deck and even did my first marathon on it. I know tend to ride further and longer than I used to, because this deck allow me to progress and get better in pumping and I don't get feet cramps as I used to on my former deck.
Conclusion:
This Flying Wheels deck is great for LDP if you don't plan to push a lot. As it is a top mount it will be quite high and it make pushing not very confortable as you will have to half squat on one leg. But if you plan to pump and have the adequate trucks, it is awesome and I really recommend it. And as you can find it for cheap, it is also a good beginner board.
For the moment, it is my main LDP deck. I'm planning to use it in my next race:  Le 20 Bornes Long distance pushing in the end of October and I think I will have a lot of fun.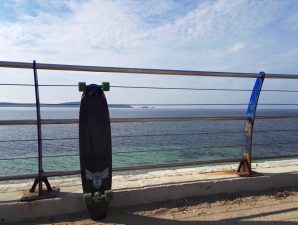 Pro:
Cheap
Simple style and finish
Good quality
Nice length and width
Perfect concave for my taste
Kicktail
Wheel wells
Cons:
Few informations available
For some people : Stiff
Future availability uncertain