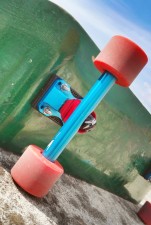 As I stated in previous posts, in my neighborhood the asphalt is really rough and like to use really soft wheels. Until now I was using cruiser wheels that worked well but where too big (60mm) and of an inadequate shape. Plus they are quite heavy, which doesn't help with my ollies.
So i looked for wheels that were at the same time soft, small enough and preferably cheap. I know Bones makes some pretty nice old school wheels for rough terrain wisely called Rough Rider but I couldn't find them at a good price. But I tried something different, I found wheels originally made for quad rollers that were only 58mm big and with a soft durometer (78a). As they were pretty cheap (around 15€ a set) I bought them, I dont risk much.
As you can see on the picture bellow, they look more like regular skateboard wheels than the Penny style wheels I used until now.