Today I was supposed to go to the skatepark with a friend, unfortunately it was raining this morning so I didn't.
But this afternoon, as the rain had stopped, I decided to go the parking near my house and practice my ollies. I had setup my board for pool/snakerun ridding so it was quite high for ollies (at least for a noob like me). Anyway it went well, I have managed to get a few low speed ollies, I guess watching Aaron Kyro videos helped me.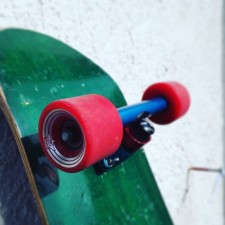 This is  the setup I used :
Diy deck 8.25″
Surf Rodz TKP
Losenka wheels (I dont usually use them on pool skating, too soft.)
Bones Red
Khiro hard risers
I know I might sound cheap, using Losenka wheels but even though they are cheap, they are soft enough to use on rough asphalt (78a), really grippy and fast.
Cruiser wheels like that may no be the best wheels for street skating but where I live the asphalt is really rough.