If you have read some other post on my blog you know that my main problem is that I can't really ollie. I can kind of ollie, stationary, or over a very very small twig. Most people learn the ollie pretty quickly, or without major problem. I don't, it has been a long struggle and it is definitely not finished.
I watched millions of videos on Youtube, tried different trucks, wheels, decks, shoes. Practiced for hours on fake grass, on concrete, hanging to a gate. With different positions, the back foot either in the tail pocket or nearly hanging at the end of the skateboard. Same for the front foot. I tilted my balance in each and every directions. I tried to slide my front foot higher, lower, harder, softer, earlier, later.
And this is one of my best attempt: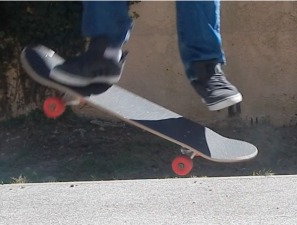 Yeah, I lifted the four wheels, but it's not really an ollie. My front foot slide is done with the sole of my shoe and so my board doesn't really level and my back foot keeps hovering it. My back wheels don't lift high enough to land farther than where the front wheels lifted from (so not really a "jump" as I wouldn't even be able to ollie over a line). It looks ugly and awkward and as my back foot is not in contact with the board, I don't have much control and usually land with my feet in wrong places.
What is wrong with my feet ?
As you my have read in my article The Physics of a Skateboard Trick: Why my Ollies are Garbage ? a simple video analysis shows that my front feet is completely not doing his job.
You won't find anyone who can do a decent ollie using his foot flat to level his board. People doing the higher ollies are nearly using the top of their feet to level the board. For exemple look at this still frame, taken from the wonderfull Skateology: Ollie (1000 fps slow motion) video.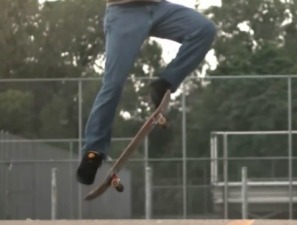 Seriously, he is sliding the top of his shoe on the griptape. No doubt, it is the way to do it. I can find millions of pictures of ollie, this is definitely how I should do it. If I could completely control my body with a script I would just to change some parameters to make my front foot rotate a little and slide to the nose and it would be done in no time.
Muscle memory in action
"Muscle memory has been used synonymously with motor learning, which is a form of procedural memory that involves consolidating a specific motor task into memory through repetition." [1]
Yeah, I have built a bad muscle memory. It must have been there from the beginning, but I spent too much time telling myself it will eventually fix itself. But no, it won't and I need to break this memory and create a new one. It going to be hard. It reminds me when I was learning how to drive at the driving school. For some reason I had developed a bad habit with the clutch (Yeah, we don't drive automatics here. We prefer real car.) and I would stale the car all the time. It took me weeks to unlearn and re-learn how to correctly engage the first gear.
What is the plan now ?
No that I figured out what is the problem and what is the root of the problem I have to fix it. I was wondering how I could fix that incorrect movement and then I stumbled upon the How To: Ollie video from VLSkate that I posted in a previous article. There is a part where he shows how to practice both the pop and the front foot slide separately. I know is must seems pretty simple but I haven't though about it before: I have to work on the front foot slide alone to build a better muscle memory.
So I decided to establish a training program and record it. I will record myself doing the different "exercices" and hopefully make a video of how I finally defeated the almighty ollie and complete the chalenge. Hopefully the video will be made soon, until then enjoy spring skating and see you soon !