Replacing Carver CX Kingpin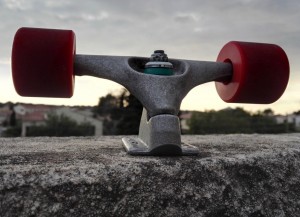 As I explained in my Carver CX Review, something I didn't like was the kingpin sticking out and hitting coping or curbs. I had a great email exchange with Neil Carver (who designed the truck) about it. He told me "Flipping the kingpin is a very good solution" but he also warned me that "It's dangerous and you could break the base if something goes wrong. How's that for fair warning? ".
Nonetheless I decided not only to flip my kingpin but also to change it for a DIY metric hex button head one. It is made of metric Class 10.9 steel which is a bit stronger that Grade 8 steel. It is also a little bigger in diameter so the base will need to be redrilled and going back to imperial kingpin will be difficult or even impossible.
Continue reading "How to replace Carver CX Kingpin with a Flipped Button Head Kingpin" →